News
Artifact Hunt on video
27 April 2007
In response to your numerous requests, we have created a video tutorial of the Artifact Hunt demonstrating the peculiarities of this multiplayer mode.
The video will come in handy to both newbies and players with some experience of S.T.A.L.K.E.R. net gaming.

Asus + S.T.A.L.K.E.R.
18 April 2007
ASUS informs their new video card based on NVidia GeForce 8600 GTS chip, will please hardcore gamers not only with support of brand new DirectX 10 features, but also a solid bonus going as bundle.
As a testing ground for ASUS's new glossy hardware come the spaces of "S.T.A.L.K.E.R.: Shadow of Chernobyl" game.
Speaking about the video card, EN8600GTS is designed with the gamer's graphics expectations in mind: it is equipped with 256MB of DDR3 memory and able to support NVIDIA's SLI™ technology. With such high-end specifications, the graphics card has earned the accolade of being the official global bundle partner of S.T.A.L.K.E.R.
Check out the full list of EN8600GTS specifications here.

In the first rows
18 April 2007
A well-known analytic agency NPD Group informs that S.T.A.L.K.E.R.: Shadow of Chernobyl tops the list of best-selling games in North America (as of March 24), ahead of the traditional leaders like Sims 2. This victory adds pleasantly to the similar situation in Europe and ex-USSR.
According to ELSPA, S.T.A.L.K.E.R. currently is number four in UK among other selling PC titles (as of April 14).

S.T.A.L.K.E.R. wallpaper
29 March 2007

First patch
27 March 2007
The first patch, version 1.0001, adding a number of fixes into the game is available for download. We recommend you to browse the list of fixes and other important information about the patch.
USA version
Worldwide version

S.T.A.L.K.E.R. in sales charts
27 March 2007
According to ELSPA sales charts as of March 24, 2007 S.T.A.L.K.E.R.: Shadow of Chernobyl has placed number eight among all game platforms (Cossacks: European Wars was ningth at its time, for example) and number one among the games on PC.
It's worth noting that the release of S.T.A.L.K.E.R. coinsided with launch of PlayStation 3 in Europe, which drew attention of many players to the console.
We'll keep you posted on how the game's doing in other territories as soon as we get the valid information.

Stalker Day!
23 March 2007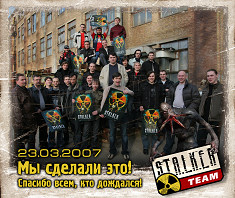 During a special session dedicated to the official release of the game S.T.A.L.K.E.R., it was unanimously agreed to declare March 23 the World Stalker Day!
Photograph from the session included.

S.T.A.L.K.E.R. officially released!
23 March 2007
The release of the most wanted ex-USSR game finally crowns the six years of development.
Throughout this long period hundreds of thousands, if not millions of players from around the globe became the game fans, fell in love and got disappointed, awaited and believed, quit and returned to browse through gigabytes of screenshots and hours of video trailers in excitement. A lot changed throughout this time - both in the project and in the life of gamers who awaited it and to whom the S.T.A.L.K.E.R. word meant something bigger than just another shooter.
The recognizable dear architecture of the Soviet empire days, wild beauty of dead cities and scary nature - the world enrols new heroes into the ranks of stalkers. And this means a new stage in the lives of all who finally received the awaited now commenced.
Today, on March 23, 2007, S.T.A.L.K.E.R.: Shadow of Chernobyl is officially released in Europe and ex-USSR.
We congratulate everyone on this remarkable event and are thankful to all who awaited, believed and supported us!

S.T.A.L.K.E.R. out in America
21 March 2007
Happy news! Starting from March 20 North America has been playing the now shipped S.T.A.L.K.E.R.: Shadow of Chernobyl! Players in Europe and ex-USSR are about to start playing too in just a couple of days.

Fresh Screenshots
7 March 2007
While the game is in print and impatient fans scour the Net in search of blogs of similarly impatient journalists, giving out spoilers, we suggest you spend some time contemplating a new set of screenshots.