Soundtrack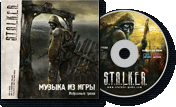 We post a selection of music from the game for free download. Fourteen unique tracks will add to the musical collection of S.T.A.L.K.E.R. fans and will become a pleasant addition to the game disc.
The files are available in *ogg format with the quality of variable 160 kb/s.
Foobar player is recommended for the comfortable listen.
Tracklist
01 Mutation (music by MoozE)
02 Dead Cities Pt.2 (music by MoozE)
03 Radwind Pt.1 (music by MoozE)
04 Tunnels (music by MoozE)
05 The Thing (music by MoozE)
06 S.A.D. (music by MoozE)
07 Cold/Freezing Out (music by MoozE)
08 Zone Triggers (music by MoozE)
09 Radwind Pt.2 (music by MoozE)
10 Sleeping In Ashes v.2 (music by MoozE)
11 Rads Pt.1 (music by MoozE)
12 Dirge for the Planet (lyrics by O.Yavorsky, music by FireLake)
13 Fighting unknown (music by FireLake)
14 Against the ionized odds (music by FireLake)