Pseudodog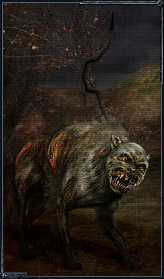 Pseudodog
Despite the name pseudodogs developed from wolves. The wild animals inhabiting the Zone's forest when the catastrophe occurred gave rise to one of the most dangerous mutant species.
Pseudodogs are about as different from mutated dogs as wild wolves are different from mongrels. The creatures mark and guard their territory, attacking those who enter without mercy.
Their reaction, mobility and sharp teeth make pseudodogs very serious enemies for large mutants and well-armed stalkers alike.
Back to list